View in browser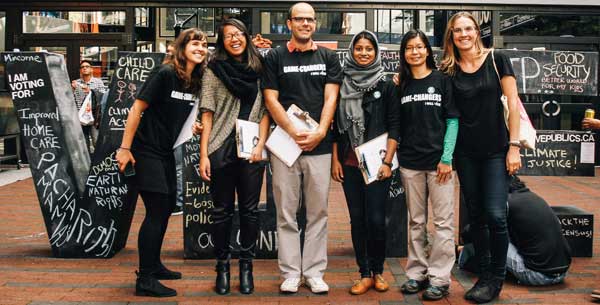 Dear Friend,

Millions of people are voting for change.

In the last election, just a handful of voters made the difference in electing a majority government for the Harper Conservatives. This election could be even closer.

The power to decide the outcome of this election is in your hands. Be a voter, and bring as many other voters as possible with you to the polls.

What to vote for

The Council of Canadians is non-partisan and does not endorse any parties or candidates. But if you haven't yet made up your mind on who to vote for, our voter's guide highlights where the parties stand on key issues.

After nine years of job losses, health care privatization, falling wages, environmental neglect, eroding democracy, and cuts to public services, it's time for change. But that will only happen if you go vote for it.

How and where to vote

Be sure to double-check your local voting times – they vary from region to region. By law, if you're eligible to vote, your employer has to ensure you have enough time on election day to vote.

Remember, because of changes brought in by the "Fair" Elections Act, it's best to make sure that you have the ID you'll need to vote.

If you've received a Voter Information Card in the mail, you can't use it as ID to vote, but you can use it to find your local polling station. You can also check with Elections Canada to confirm your polling location.

If you're not yet registered, you can do so at your polling station. Just bring the same ID you would need to vote.

How to defend your right to vote

Changes brought in by the Fair Elections Act mean it will be more difficult for some people to vote this election. If you're having problems, be persistent. A friend or neighbour can attest to your address if your ID is inadequate. You can also ask to speak to the Deputy Returning Officer or the Chief Returning Officer.

If you witness anyone being prevented from voting, or if you're unable to vote yourself, you can report it at our new election monitoring service, VoteWatch. We'll follow up after the election to discuss your voting experience.

It's time for change. Be a voter and you can make it happen.

Our democracy is counting on you.

With hope and resolve,




Maude Barlow
National Chairperson

P.S. After you vote, take a "voter selfie." Share a picture of yourself on social media with a sign about why you voted, using the hashtag #ivoted2015.