Dear :
Today, Chesapeake PSR released a report revealing significant failures in the way Maryland utilities have been allowed to meet the state's Renewable Portfolio Standard (RPS).
Although the RPS was intended to increase the amount of clean, renewable energy in Maryland's electricity mix to 25% by 2020, Chesapeake PSR's report, Unbundled: How Renewable Energy Credits Undermine Maryland's Transition to Clean, Renewable Energy, documents how utilities rely on "unbundled renewable energy credits" (unbundled RECs) to meet their RPS requirements.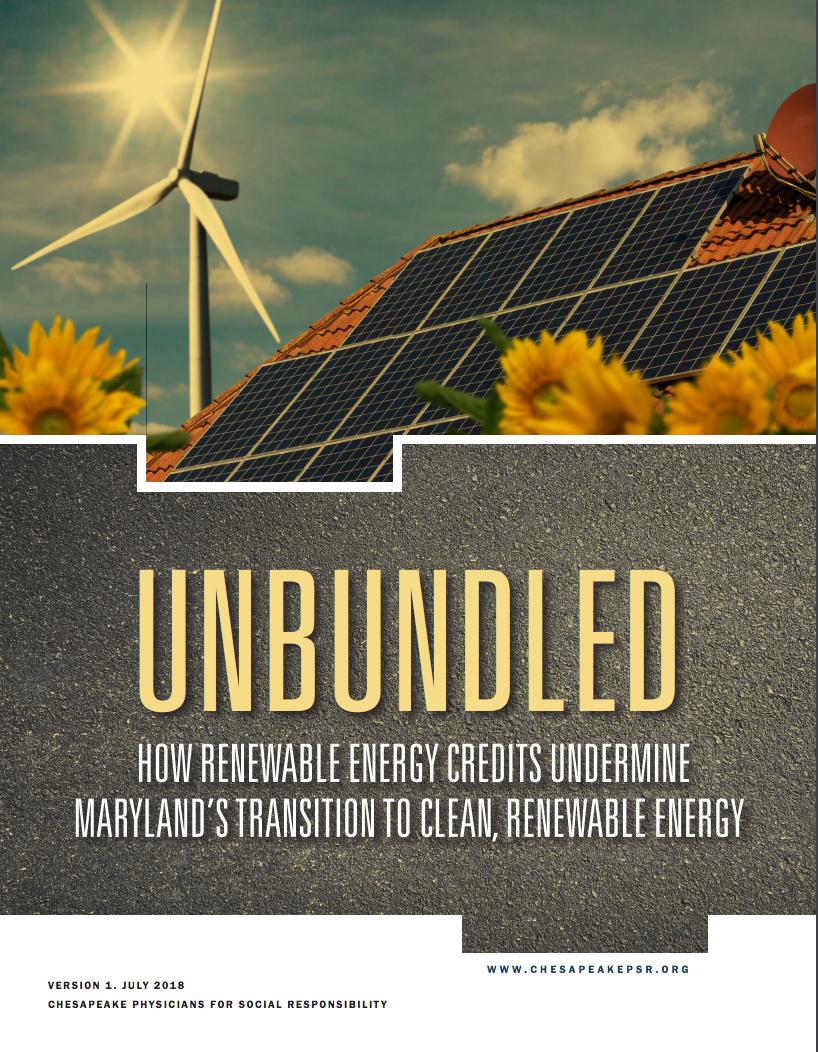 Unbundled RECs are no-strings attached subsidies from Maryland ratepayers to energy producers, often in far away places. Unbundled RECs allow utilities to continue to purchase electricity from fossil fuels sources while claiming credit for renewable energy that was produced and purchased elsewhere.
The report finds that Maryland's reliance on unbundled RECs in its RPS does little to incentivize new clean, renewable energy production or provide economic benefits to Maryland.
In 2016, Maryland utilities retired over 7 million non-solar Renewable Energy Credits (RECs) at a cost of over $88 million to meet their requirements under the Renewable Portfolio Standard. Based on our review of Public Service Commission records, it is likely that all of these RECs were 'unbundled.'
The report identifies four key problems arising from Maryland's use of unbundled RECs.
There is no available evidence that unbundled non-solar RECs purchased by Maryland utilities are used to finance new renewable energy. Unbundled RECs represent additional revenue for energy producers with no strings attached.
There is no evidence that unbundled non-solar RECs bring significant economic development to the state.
Maryland allows utilities to buy RECs from sources that are neither clean nor "green."
Maryland ratepayers are forced to pay extra money on their energy bills to cover the costs of unbundled REC purchases but get few of the promised environmental, health or economic benefits in return.
Chesapeake PSR's President, Gwen DuBois, MD, MPH, says "Good public policy has much in common with good medical practice. Every few years, in medicine, a review of information on treatment and outcomes of the most basic conditions such as diabetes, hypertension, cancer prevention, lead to changes in standards of care. This is was we call 'evidence based medicine' and it is what doctors are expected to conform to."
"In public policy, programs are created with consensus and expected to result in the desired good outcomes but these too must be revisited every few years to see if they measure up and if not, policy changes should be made based on this new information. It is for this reason that this report on Maryland's RPS and unbundled RECs is so important for those concerned about good energy policy," adds Dr. DuBois.
You can read the report here.
---