International Tibet Network Members' Message
30 March 2015
Dear Members,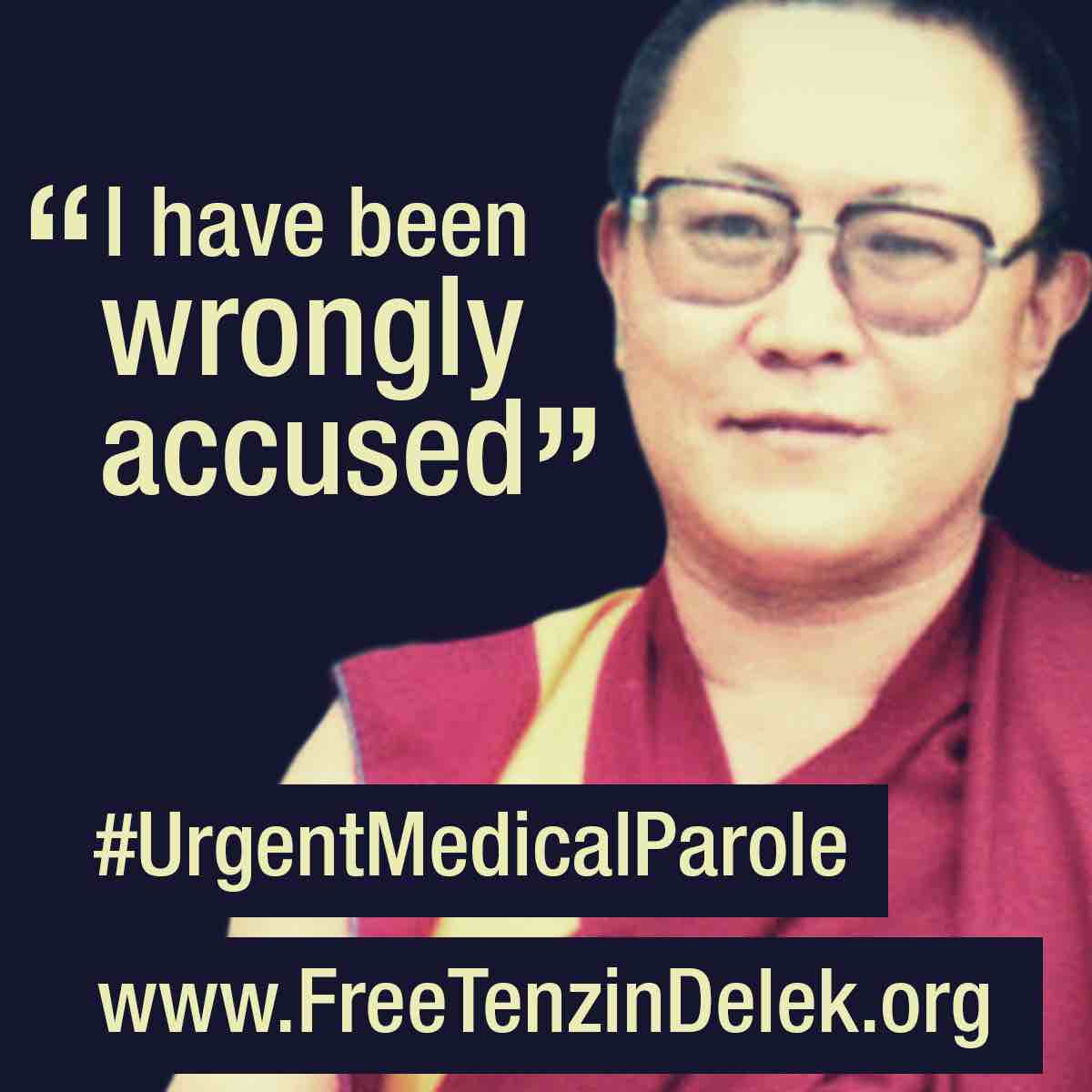 This message contains suggestions for taking action on behalf of Tenzin Delek Rinpoche, in support of his release on Urgent Medical Parole, from 7 April onwards.

There are 10 suggested actions that have been developed with the Campaign Working Group, and these are listed below.

Firstly, a reminder that a Joint Statement to mark the 13th Anniversary of Tenzin Delek's arrest will be published on 7 April. Please let us know by Friday 3 April if you DO NOT wish to sign this statement. If you have any comments, please contact alison@tibetnetwork.org. The text of the statement can be viewed in google docs at - https://docs.google.com/document/d/1na5xwdIEpBrmJt25sHwcI1lqRTYchNKNfSmMIRTnBY8

10 Actions for Tenzin Delek Rinpoche.
All the relevant materials and resources can be found via the following links:
Tibet Network: http://tibetnetwork.org/portfolio-items/tenzin-delek-rinpoche/
Dropbox Folder: https://www.dropbox.com/sh/nbkk7trirvsgwvu/AAC68YY7qJ0qmV202zMSsRPWa?dl=0
Google Docs Folder: https://drive.google.com/folderview?id=0B6q-qWV5wyFQNU1tRnBXWUlRWUU

Actions 1 to 4 are recommended for 7 April
Action 1. Share a Joint Statement calling for Tenzin Delek's release on medical parole.
- See the link in the message above to view the draft text. The final text and report will be available to share from 7 April at http://tibetnetwork.org/tenzindelek_medicalparole

Action 2. Share NEW Mini Report: "I have been wrongly accused" - Tenzin Delek Rinpoche: An Urgent Plea for Medical Parole https://www.dropbox.com/s/fz5qv98jm0q8pii/Tenzin%20Delek%20Medical%20Parole_Lo-res.pdf

Action 3. Sign and share a NEW petition at www.FreeTenzinDelek.org to Foreign Ministers. The petition can be personalised as an embeddable widget for Network members. Please contact alison@tibetnetwork.org for more details.

Action 4. Change and share Facebook and Twitter images:
https://www.dropbox.com/sh/gmlrswk890uq9qo/AACpntlRkjgHCd4EKkiVwgwra?dl=0 

Actions 5 - 9 are recommended for anytime after 7 April, and can either form a week of action, be carried out as weekly actions or whenever your group feels it is appropriate to promote to your supporters:

Action 5. Outreach to your country's Beijing Embassy to raise medical parole ask (send the NEW report). Contact details of Beijing embassies are available here: http://www.chinahighlights.com/embassy/embassy-in-china/beijing/

Action 6. Share the updated Tenzin Delek Rinpoche video. NEW titles have been added, to highlight the push for medical parole. The video is available via youtube or vimeo or you can download from Dropbox to add to your own Group's video channels.
Dropbox:  https://www.dropbox.com/sh/o37lnv2lufkrw1i/AAB9FWEi41jroBHffSlu5zqda?dl=0 
Youtube: ENGLISH: https://youtu.be/nXXTyTkxgoc; SPANISH:  https://youtu.be/9E6-7vlLmP0
Vimeo: ENGLISH: https://vimeo.com/123399620; SPANISH: https://vimeo.com/123414284

Action 7. Organise a Solidarity Protest. Resources available to use include:
- Tenzin Delek mask artwork, available at https://www.dropbox.com/s/6zkyofbu9l4e8dk/TDR_Mask.pdf?dl=0
- Placards, available at https://www.dropbox.com/sh/sblo9iygbtndlfk/AAB-gHh_vmaEdAxra0k17UR5a?dl=0 

Action 8. Organise a lobby day and or contact elected representatives. Sample Letters can be found at: 
https://www.dropbox.com/sh/0u930l3o80r0khz/AADj4WRTpCRLcy18i9kR2CYYa?dl=0

Action 9. Hold a Tenzin Delek Medical Parole booth. Suggested activities include;
- Display Placards and posters: https://www.dropbox.com/sh/sblo9iygbtndlfk/AAB-gHh_vmaEdAxra0k17UR5a?dl=0 
- Collect signatures for the petition:
https://www.dropbox.com/sh/5p2d2g4l3opuavy/AAAyyeGBEJvbWina4ckAS5dCa?dl=0 
-Collect signed postcards to send to Chinese leaders Yang Jiechi, Meng Jianzhu, and Wang Dongming. Postcard Artwork to download/print available from: 
https://www.dropbox.com/sh/2pdw4zhj7itddh1/AAAY5IPOebEPQQGQaQLLmWpea?dl=0 
- Take a #FreeTenzinDelek selfie. See http://freetibetanheroes.org/take-action/tenzin-delek-solidarity-selfie/

We recommend that the petition is delivered to Foreign Ministries in the week ending 21 June:
Action 10. Organise a delivery of the Petition to your Foreign Ministries (to coincide with International Day for Victims of Torture). Tibet Network will provide petition artwork nearer the time.

Best wishes,

Ali, sent on behalf of Mandie
mandie@tibetnetwork.org
The International Tibet Network is a global coalition of more than 180 Member organisations from six continents, who believe in the power of coordinated campaign action for Tibet. You are receiving this message as a designated representative of one of our Member organisations. If you wish to change your contact details, or the name of your contact person with the Network, please email Tenzin Jigdal on jigdal@tibetnetwork.org.

If you would no longer like to receive messages, unsubscribe here.