SUPERHIGHWAY CONSULTATIONS GET ONE OF 'HIGHEST RESPONSES EVER'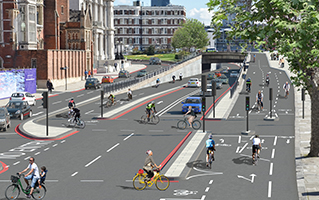 Consultations on the North-South and East-West Cycle Superhighways closed last weekend, with one of the 'highest responses ever' according to TfL. More than 14,000 people responded to the consultations, with 80% in support of the proposals. 6,300 of those responses were sent via the LCC website.

More than 160 employers have supported the proposals through the CyclingWorks website – these include RBS, Deloitte, Orange, Microsoft and Unilever. Thanks to everyone who took part, and to those who urged their employer to back the plans.

The issue was also covered on the BBC's Sunday Politics show (watch it here on iPlayer), which included footage from LCC's Love London, Go Dutch Big Ride.
WHAT'S NEXT FOR S4C CAMPAIGN IN YOUR AREA?


Six months on from the local elections, our Campaigns Team has been looking at what progress has (or hasn't) been made towards creating Space for Cycling in your area.

Thanks to your help, 47% of London's councillors promised to make local improvements to benefit cycling. But have they met those promises? We don't believe that all of them are taking their commitments seriously. So read our update and get ready for the launch of our new petition in a few weeks' time. We need your help to make sure Borough Councils (who control more than 95% of London's streets) treat safe cycling as a priority.
JOIN US AT CYCLENATION ON 22 NOV

LCC is hosting the Cyclenation-CTC Annual Conference on 22 November at Lambeth Town Hall – you can find an agenda here
(and list of speakers) and book your place via the LCC shop. Students who want to attend the Cyclenation Conference can use the discount code 'stucnc' and save 50%.
OTHER NEWS...
There's only a few days left to enter our Design A Christmas Card competition to help raise funds for Space for Cycling. Two winners will bag themselves a small prize and see their designs sold via our online shop. Entries close on 17 November.

Can you lend your skills and experience to our Income Generation Committee? To find out more about what's involved, please read our web post and get in touch.

TfL has unveiled its scheme to completely overhaul Old Street roundabout and the surrounding area, as part of its Road Modernisation Plan.

You can read and respond to the Archway gyratory consultation here. It's one of many consultations due to be launched in the next few weeks.
There's still lots of bike rides and events on the calendar, so why not hook up with your local LCC group?

In the next week or so you can try a Southwark Healthy ride, join a maintenance workshop with Tower Hamlets Wheelers, explore the lanes of Hertfordshire, tackle the classic Docks and Ducks ride from Southwark, or maybe ride from Cator Park to the Rye at Peckham.
Versatility's the name of the game with the newly-launched Bigo Bag Five – it converts from a courier-style messenger bag to a rain poncho, baby sling, picnic blanket and haulage sack. Only available from the States at the moment.

Elsewhere in the weird world of bike development, Impossible Technology has come up with a design for an electric folding bike which will weigh less than 5kg and fit inside a backpack.