Dear MARK,
In a Chinese abattoir, the floor runs slick with blood and the air is thick with fear.
Dogs condemned to this living nightmare cower and whimper in terror as they watch workers bludgeon one helpless pup after another before tearing their skin off.
This year, hundreds of thousands of petrified dogs, much like those we share our lives with, will be killed in hellish facilities like this one, and their skins will be sold to factories where their suffering is turned into a pair of gloves or a leather belt.
Will you help us end such misery by making a gift to PETA's "Save Our Skins" campaign right now?
We've set a goal of raising £75,000 by 30 June – until then, every pound you give will push us closer to our goal and help power our hard-hitting campaigns against the global skins trade!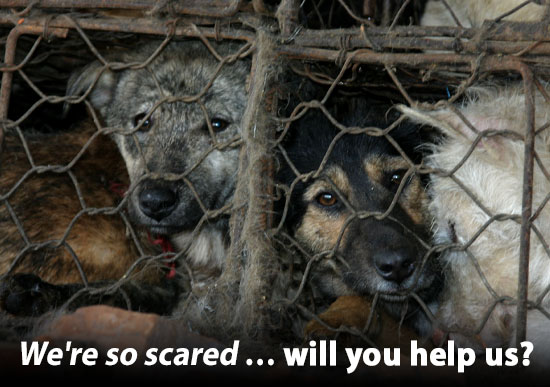 Powered by compassionate, determined people like you, PETA is stopping cruelty and transforming the fashion industry:
Consumers are embracing animal-friendly fashion like never before, but we must ramp up our work to protect dogs and all other animals who are abused for their skin, fur, wool, and feathers.
Please make your special gift to the "Save Our Skins" challenge right now!
Thank you for your compassion and generosity.
Kind regards,

Ingrid E Newkirk
Founder