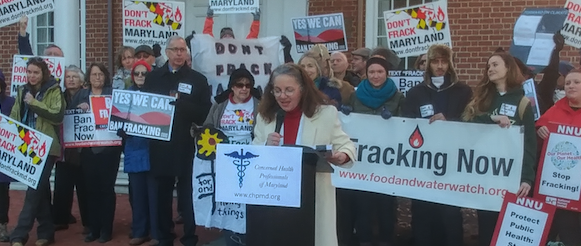 The oil and gas industry has taken over energy policy in Washington D.C, but Chesapeake PSR is determined not to let them do the same in Maryland.
Working closely with our Don't Frack Maryland coalition allies, we at Chesapeake PSR are now in the final stages of our push to stop fracking from coming to our state. Soon, the Maryland General Assembly will decide whether to ban fracking. This is the culmination of a lengthy battle between the people of Maryland and the fossil fuel industry.
To prevail, we need to be more tenacious than our pro-fossil fuel opponents. It will be a tough fight, but we have the people, the science and the momentum on our side.
Here are some steps you can take now to help:
Finally, read and share some of our information on fracking so others might get involved.
Chesapeake PSR background information on fracking: The Health Effects of Fracking and Fracking Regulations Cannot Protect Maryland
Op-ed for the Baltimore Sun explaining why a ban on fracking is the only rational option for our state
Chesapeake PSR's written testimony to the Maryland Department of the Environment explaining why their proposed regulations for fracking are inadequate
Now, more than ever, states must take a leadership role in addressing climate change and in protecting public health and the environment. Let's keep the pressure on and help ensure that science and common sense prevail in Maryland.
If you have any questions or would like to become more actively involved, please feel free to contact me or our executive director, Tim Whitehouse.