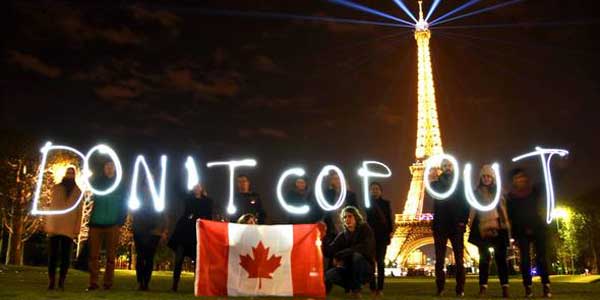 A climate victory or a climate fail?
This month, world leaders announced a new agreement on the global climate change crisis. Council of Canadians National Chairperson Maude Barlow and staff members were in Paris, France for COP21, the United Nations climate change conference, as part of civil society's voice urging a better, sustainable future for our planet.

The Canadian government agreed to a non-legally binding multi-nation deal to limit the global temperature rise to 1.5 degrees Celsius. While this agreement has been presented as a step forward in the global movement to address climate change, concrete actions are urgently needed to turn this goal into a reality.

"We welcome the 1.5 degrees Celsius target," said Maude Barlow, National Chairperson of the Council of Canadians. "But goals without actions to back them up are just more hot air – I think Canadians have run out of patience for that. There is no doubt in anyone's mind that energy acquired from tar sands, fracking, and offshore drilling is devastating to the environment. We expect that the Canadian government will move forward with meaningful changes to current energy policies. Anything less is incompatible with the government's stated goal of a 1.5 degree target."

Proposed pipelines will also derail meeting this target. "If we are serious about achieving a 1.5 degree target, then we cannot approve new tar sands pipelines like TransCanada's Energy East or Kinder Morgan's Trans Mountain," said Andrea Harden-Donahue, the Council's Energy and Climate Campaigner. "The Energy East pipeline alone could lead to a 40 per cent increase in tar sands production, which we will be locked into for 40 years. Ambitious targets require ambitious actions. This means freezing tar sands expansion and planning for a transition towards a fossil-free economy by 2050."

Read more about what we can expect moving forward and analysis of the agreement.

This holiday season give the gift of a blue future
Would you like to give a gift to someone special that will really make a difference? This holiday season you can give the gift of a blue future by donating to the Council of Canadians in the name of a friend or loved one. In 2012 the Harper government removed environmental protections from 99% of Canada's lakes and rivers. Your gift will directly help advance the Council of Canadians' campaign to restore and strengthen protections to cover all waterways – and ensure a blue future for generations to come.

Make your gift by December 17 to ensure it arrives by December 23.
New report assesses progress on the human right to water
On Human Rights Day the Council of Canadians and the Blue Planet Project released Maude Barlow's new report Our Right to Water: Assessing progress five years after the UN recognition of the Human Rights to Water and Sanitation. The report examines the progress made in key areas to fulfill the right to water, including in the courts and in relation to corporate control and influence. It also looks at what still needs to be done to protect water from increasing pollution and to increase community access and control. "Governments and communities around the world have vowed to implement the right to water," said Barlow, in a recent media release. "Yet two and a half billion people still do not have access to basic sanitation. The drinking water advisories in Indigenous communities in Canada are a national shame. And now water cut-offs are hitting low-income people in cities in Europe and the United States."

Read the report.
Independent expert's review of Energy East storage tank plans raises red flags
Dr. Ken Froese, an independent expert with more than 20 years experience in health and environmental risk assessments, has written a report that reveals critical gaps in TransCanada's health and safety analysis for the Energy East pipeline, proposed marine terminal and large tank storage facility in Red Head, New Brunswick. The report finds that risks from benzene emissions may be understated, worst-case spill scenarios were not accounted for, and there was minimal discussion of the impact of odours from the proposed infrastructure. The Council of Canadians commissioned the report and organized meetings with local residents earlier this month for Dr. Froese to present his findings.

Read more.
Questions asked about Chief Medical Officer of Health firing
Earlier this month the New Brunswick government fired the province's chief medical officer. Dr. Eilish Cleary had been studying glyphosate, a herbicide and suspected carcinogen, that has been used by J.D. Irving Ltd. and NB Power. Dr. Cleary may have also been looking into the health effects of the malfunctioning vapour recovery unit at Irving Oil's Saint John refinery and wrote an important report analyzing the health impacts of fracking. The provincial government is not revealing any information about Dr. Cleary's abrupt removal.

Let the New Brunswick government know that their lack of transparency and accountability is unacceptable. Send a letter and tell Premier Brian Gallant to reinstate Dr. Cleary.
Chapter fights to protect drinking water
Members of the Victoria, B.C. Council of Canadians chapter have been taking action to protect their local drinking water source from contamination. A company called South Island Aggregates is dumping contaminated soil at a gravel pit near Shawnigan Lake. The site is located on top of an aquifer and next to a creek that runs to the lake, the drinking water source of more than 12,000 people. Chapter members participated in a blockade of the site when the company started dumping the toxic soil in May, and have taken part in ongoing demonstrations.

Read more.
Join the Council of Canadians
Founded in 1985 by a handful of citizens including Tommy Douglas, Margaret Atwood and Farley Mowat, the Council of Canadians is Canada's leading social justice organization. When you support the Council of Canadians, you raise your voice on social, economic and political issues and help build a strong, independent and diverse Canada. Join the Council today, and prove that a better Canada is possible. Already a supporter? Share this newsletter with a friend and encourage them to get involved.