April 19, 2016
"Don't Bank on the Bomb" scores its first big U.S. victory
In a victory for the international "Don't Bank on the Bomb" divestment campaign, the City Council of Cambridge, MA voted unanimously March 21 to divest its $1 billion pension fund from the nuclear weapons industry. MIT's Stephen Hawking said: "If you want to slow the nuclear arms race, then put your money where your mouth is and don't bank on the bomb." Would you like to divest your personal portfolio, or know of a university, municipality, bank or investment fund that should divest? Learn more »
TONIGHT in NYC: Flipping the Script

Tuesday April 19, 2016 5:30 pm New York City
This year, the Tribeca Film Festival focuses on nuclear risk. In conjunction with the festival, PSR board member and past president Ira Helfand, MD, will be featured at an N Square-funded event that will include author Eric Schlosser, director Smriti Keshari of The Bomb, gaming-for-good expert Susanna Pollack and others. Clips from Robert Kenner's film based on Schosser's Command and Control will be aired and the multimedia sensation The Bomb will be launched. Please come and meet PSR's Sr. Manager of Philanthropy, Christine Herrmann, Dr. Helfand and local PSR representatives.
Register here to attend this exclusive event with innovators who want a future that is free from the threat of nuclear catastrophe.
Security News & Views ~ April Edition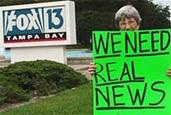 Here are this month's top ten news articles, media hits and opinion pieces to keep you informed about what's happening in the nuclear disarmament movement. Read more »
Climate, heat, mosquitoes: Making us sick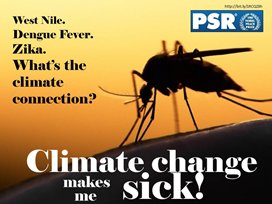 Summer 2016 may be the hottest ever. Prepare for an onslaught of mosquitoes—and the dangerous diseases they bear. Mosquitoes in the U.S. already carry West Nile disease. Dengue fever, Zika, and malaria are mosquito-borne in other parts of the world; the primary threat for U.S. residents is associated with travel. But with climate change raising world temperatures, mosquito ranges are expanding and their biting behavior increases. Alert your colleagues and friends using PSR's latest "Climate Change Makes Me Sick" e-postcard, available on our website for forwarding, tweeting, and posting on websites and Facebook.
TONIGHT: Webinar: Hormone-disrupting chemicals—the latest research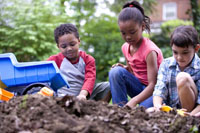 Hormone-disrupting chemicals are used in many consumer products including cosmetics and children's items. Yet few health professionals have been trained to help patients reduce exposures to these harmful chemicals. Our next train-the-trainer lecture will review new research on endocrine-disrupting chemicals and discuss recent biomonitoring studies investigating the presence of fire retardants in women and children. Johanna Congleton, MSPH, PhD and a PSR national board member, will discuss these topics and how to counsel patients on reducing exposure risks. Register now to join us, TONIGHT, April 19 at 7:00 p.m. EDT.
Fracking Infrastructure Extends Health Threats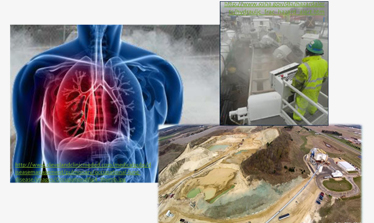 Fracking for oil and gas releases dangerous volatile organic compounds (VOCs) and other chemicals into the air. It also leaks methane, a powerful heat-trapping greenhouse gas. Those emissions are well-documented. What is less known is that fracking infrastructure extends those dangers far beyond the wellsites. Pipelines carry fracked gas hundreds of miles to markets or ports; compressor stations, which keep the gas pressurized and moving, can be located every 50 miles. They leak. Learn about the associated health and climate threats - view our new recorded webinar.



What the Presidential Candidates Really Say

The world faces terrifying threats from nuclear weapons and climate change. You know that; we know that. Do the presidential candidates know? How do they address the world's gravest threats to health and survival? PSR dug into the record to find what the presidential contenders are saying about nuclear security, climate change, fossil fuels and renewable energy. What we found is quite revealing. Read the candidates' quotes on nuclear issues and climate and energy issues.