Tackling funeral poverty:
time for the churches to act
Dear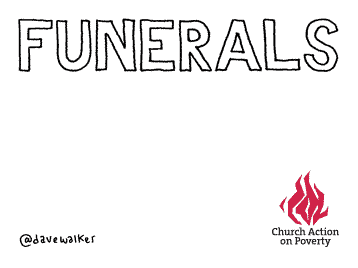 People on low incomes are increasingly finding that the death of a loved one plunges them into serious and long-term debt. Those on low incomes or benefits are hardest hit, because they have little or no savings and have to spend a much larger proportion of their income on funeral costs than those on an average income. Church Action on Poverty's new report Preventing Poverty Beyond Death, published yesterday, exposes the scale of this problem.
The cost of funerals has risen dramatically over the last 10 years, and funeral directors often fail to make their options and pricing structures clear. Bereaved people feel under pressure to organise the funeral quickly, and often have little or no experience of organising a funeral.
47% of English funerals were performed by the Church of England, Roman Catholic or Methodist Church in 2012. The Church of England alone takes around 3,000 funerals every week (around 34% of the UK total). This provides a significant opportunity for clergy and church ministers to help reduce the impact of funeral poverty. By talking to bereaved families when planning a funeral service, ministers can provide information about affordable funerals and alternative credit options, before the family commit themselves to an over-priced and unaffordable funeral.

You can help make sure your church takes a pastoral responsibility for helping bereaved people avoid funeral poverty. Use our e-action to send an email to a leader in your denomination - click here now.
Best wishes
Liam Purcell
Communications Manager, Church Action on Poverty
---
What we are about
Church Action on Poverty works with church and community groups across the UK to make tackling poverty a priority. Our work involves: educating churches about poverty in the UK; enabling people in poverty to speak for themselves; working for policies to eradicate poverty; promoting reflection and action for social justice.

Subscriptions
You are receiving this email because you asked to be kept informed about our work. Click here if you would like to stop receiving these emails.
You cna also follow us on social media - just click the buttons below:
Church Action on Poverty contact details
Dale House, 35 Dale Street, Manchester M1 2HF
Tel: 0161 236 9321 Fax: 0161 237 5359

Reproduction and distribution
Church Action on Poverty emails may be freely distributed, with the following attribution:
Source: Church Action on Poverty 2015, www.church-poverty.org.uk

Privacy policy
We will not trade, sell, or give away your address.

Church Action on Poverty is a company limited by guarantee, registered in England and Wales with number 3780243. Charity Number 1079986.