Legislative priorities 2018

Dear :
Here is a quick update on where we are as the Maryland General Assembly 2018 session begins.
Our efforts this session will focus on supporting the transition to 100 percent clean electricity by 2035, on supporting efforts to ban on chlorpyrifos, a widely used and dangerous pesticide, on strengthening the state's response to lead exposure in children, and on requiring the state to conduct a study on air pollution from large animal feeding operations.
We will have more information on these efforts next week. In this email, we are asking health professionals to sign two important petitions on lead exposure and animal feeding operations.
More details on these petitions are below.
This health professional petition asks the Maryland General Assembly to strengthen the state response to lead exposure in children. Chesapeake PSR, the Maryland Environmental Health Network, and other groups are working to engage a wide range of medical and health professionals in state efforts to end lead poisoning in children and to strengthen the relationship between health, housing and community justice organizations on this issue. Lead exposure in children - especially in Baltimore - is a crisis. Maryland must start by moving the investigation and intervention mandate for elevated blood lead levels to greater than or equal to 5 micrograms per deciliter - as the Centers for Disease Control (CDC) recommend - not 10 micrograms per deciliter, as is the case in current Maryland law.
Here is a map, updated with 2016 data, showing the differences in blood lead levels in suburban Maryland and Baltimore. See our lead page for a larger image and data by census tract.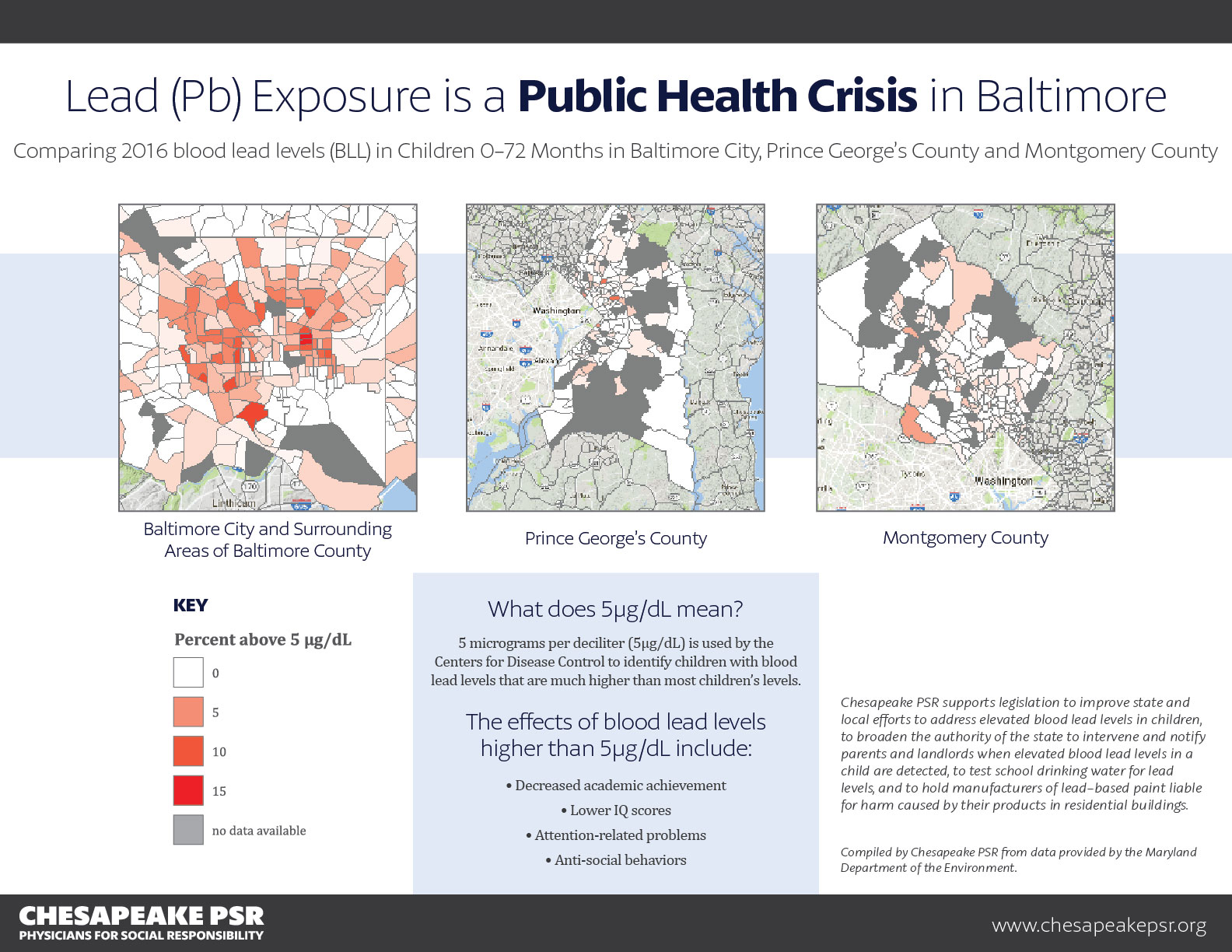 This petition asks for a one-time study of air pollution from large animal feeding operations. Chesapeake PSR supports the Community Healthy Air Act, which would require the state to study emissions from large, concentrated animal feeding operations (CAFOs) - such as industrial poultry operations on the Eastern Shore. The bill would require the Maryland Department of the Environment (MDE) to "assess air pollutants and public health risks" and report their findings to the General Assembly by December of 2019. Some of the pollutants include ammonia, particulate matter, volatile organic compounds (VOCs) and endotoxins. Chicken house contaminants have been linked to asthma, bronchitis and other respiratory issues, and have been found in groundwater near the industrial farms.
These issues are moving fast: Further updates on Chesapeake PSR's legislative agenda are coming soon. Stay tuned.
Sincerely,
Timothy Whitehouse
Executive Director